Wusthof - Crafter 9" Double-Serrated Bread Knife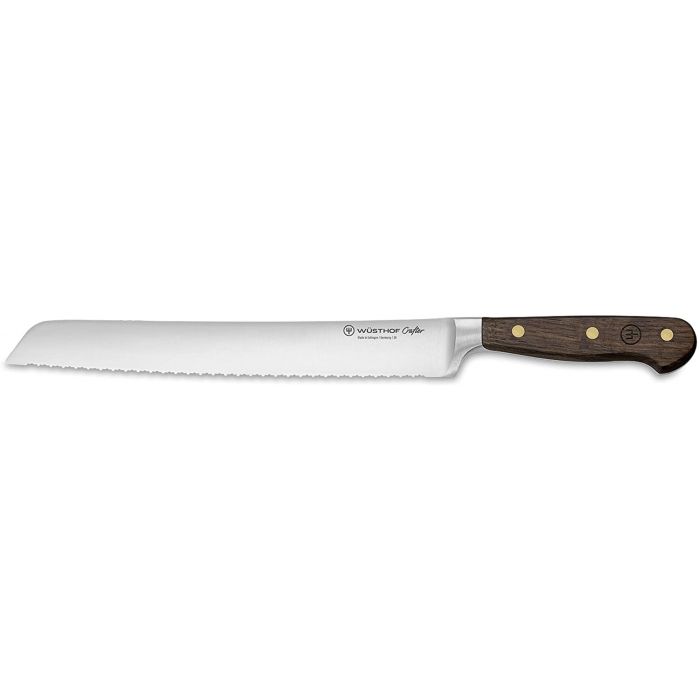 Wusthof - Crafter 9" Double-Serrated Bread Knife
Wusthof's precise, double-serrated edge makes a clear difference with this bread knife: in contrast with a single-serrated edge, this knife has serrations within the serrations, meaning that it remains sharp for longer, requires less pressure and is suitable for very precise, smooth cuts. Bread with a hard crust is not crushed when sliced with this double-serrated blade, while bread with a soft crust is also sliced cleanly, without any tearing of the delicate surface.
With brass riveting, handles made from luxurious smoked oak, and blades forged from a single piece of Wusthof steel, the Crafter series is what happens when over 200 years of knife production meets the modern home kitchen.
Forged from a single block of High Carbon Stainless Steel and tempered to 58-degree HRC. The Precision Edge Technology (PEtec) yields a blade that is 20% sharper with twice the edge retention than previous models.
Family owned for seven generations, Wusthof was founded in Solingen, Germany over 200 years ago. Wusthof's cutlery carries the Solingen name, a designation reserved for products that meet the strictest quality standards